Elaine Kennedy
Mary Elaine Kennedy
(Click for full C.V.)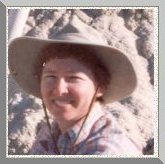 Ph.D. University of Southern California, 1990
Sedimentology and Geology of Basins
General Interests
Elaine Kennedy's interests include basinal sedimentologic analysis, including the analysis and interpretation of trace elements. She is also studying Cambrian depositional systems and deep water processes on the Tapeats Sandstone in the Grand Canyon region. Elaine is also interested in dinosaurs and is involved in work on the dinosaurs of the Lance Formation in eastern Wyoming.
Current Research
Elaine is currently working with Art Chadwick of Southwestern Adventist University, Chris Prince of Petrographics, Inc. and Ray Kablanow on the Tapeats Sandstone depositional system in the Grand Canyon and central Arizona. In addition, she is working with Lee Spencer, Art Chadwick and Larry Turner on the sedimentology of the Upper Cretaceous Lance Formation in eastern Wyoming.
Photo: Elaine on a Tapeats outcrop at Tapeats Creek, Grand Canyon, AZ. on a recent raft trip studying the Cambrian depositional environment.
Selected Publications

Kennedy, Elaine G., Kablanow, Ray, Chadwick, Arthur V., 1997, "Evidence for deepwater deposition of the Tapeats Sandstone, Grand Canyon, Arizona:" Proceedings of the Third Biennial Conference of Research on the Colorado Plateau, Chas. Van Riper, III, and Elena T. Deshler (eds.), Transactions and Proceedings Series NPS/NRNAU/NRTP-97/12, U.S. Dept. of Interior, 215-228

Kennedy, M. Elaine, 1999, "Elements: Trace:" in Encyclopedia of Geochemistry, Marshall and Fairbridge (eds.), Kluwer Academic Publishers, 222-23

Kennedy, M. Elaine, 1999, "Paleoenvironments:" in Encyclopedia all of Geochemistry, Marshall and Fairbridge (eds.), Kluwer Academic Publishers, 477-79

Spencer, Lee A., Kennedy, Elaine G., 2001, "Potentially false interpretations of dinosaur nests and nesting, with an example from the Allen Formation, Patagonia, Argentina:" Paleobios 21: 119
---