Karen Jensen
Karen E. Jensen
(Click for full C.V.)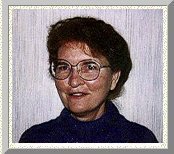 Ph.D. Loma Linda University 1987
Paleobotany, Palynology
General Interests
Karen's interests include paleobotany, Mesozoic palynology, and flood modeling.
Current Activities
Karen has developed the Leoni Meadows Nature Center, a 7000 sq ft facility in the mountains of California with thousands of visitors a year. She teaches nature classes for outdoor schools and other groups at the Center and operates the telescope at night. She also gives seminars on evidences for Creation, the Fall, and the Flood, and teaches a creation and science class at Weimar College.
Photo:An awe-inspiring view of a campsite in Grand canyon
Selected Publications

1987, Jensen, K.G., Fossil Pollen and Spores of the Jurassic-Cretaceous Great Valley Sequence, Northwestern California. PhD Dissertation, Loma Linda University. 324pp, University Microfilms International.