Lloyd Willis
Lloyd A. Willis
(Click for full C.V.)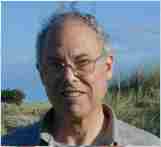 Ph.D. Andrews University, 1982
Archaeology
General Interests
Lloyd's interests include Palestinian archaeology where he has played an active role in excavations in Transjordan for many seasons. He is also interested in excavations of dinosaur bonebeds and has participated in and contributed to that research as well. He is an inveterate collector of stamps, coins and currencies and insects, and maintains extensive collections of these.
Current Research
Photo:Ray Kablanow examines the Tapeats near the south corner of Tapeats Embayment, Grand Canyon, AZ
Selected Publications

Book Review of Exodus, by H. L. Ellison in AUSS 23 (1985):206.

Jointly with Lawrence T. Geraty, "The History of Archaeological Research in Transjordan" in The Archaeology of Jordan and Other Studies, pp 3-72, edited by Lawrence T. Geraty and Larry G. Herr. Berrien Springs, MI: Andrews University Press, 1986.

Jointly with James A. Sauer, "History of the Field: Archaeology in Jordan" in The Oxford Encyclopedia of Archaeology in the Near East, 5 Vols, New York, Oxford University Press, 1997, edited by Eric M. Meyers, Vol. 3:51-56.

Book Review of Daniel: An Exegetical and Theological Exposition of Holy Scripture, (New American Commentary series), by Stephen R. Miller, in AUSS, 35 (1997): 134-136.
---